Called, "a fine collection of... pop-folk gems" that "deserves to be celebrated, or at least given a spin" by Richard Milne of Chicago's WXRT, Brian Anderson's solo debut, Work We Do Sounds We Hear, is an independent recording in the best sense of the term, an album combining superb songcraft with a singular, compelling musical vision. Fueled by Anderson's distinctive piano and guitar work, and supported by a diverse cast of Chicago musicians, the 11 tracks on Work We Do Sound We Hear transcend labels and genres while remaining both accessible and memorable.
Brian Anderson's songs have been recorded by a number of artists (among them David Wilcox and The Otters) and he has performed in many of Chicago's top clubs and at several East Coast folk festivals.
Buy it now at CD Baby
Album Snapshot:
Brian Anderson: Work We Do Sounds We Hear
Lost in America Music: LIAM 003
Release Date: January 2002
Produced by: Brian Anderson, Jon Williams, Mike Reed
Recorded at: Soto Sound, Chicago, IL
Musicians: Brian Anderson (piano, guitar, vocals), Josh Hirsch (bass), Mike Reed (drums and percussion), Jon Williams (guitar, accordion and vocals)
with
John Rice (violin and bazouki), Nora O'Connor (vocals) Chris Kaye (vocals)

Tracks:
(Click on highlighted tracks to hear them in lo-fi RealAudio.)
1. What the Doctor Said
2. Leonardo
3. More Fun
4. Bird Dog
5. Last Comanche
6. Bunkertown
7. Men in Blue
8. Down to the Bottom
9. The Little That I Know
10. Hole in the Middle
11. Write the Book

---
For more information on Brian, Work We Do Sounds We Hear, booking availability or to discuss the prospects for the Chicago Cubs in the 2002 season, e-mail him here.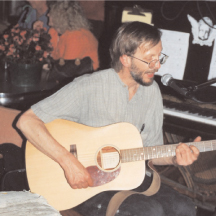 Page and contents © 2002 Brian Anderson. That and a dime will get him a cup of coffee.